Turkey on Wednesday assailed Russia and Iran for failing to stop the Syrian government's ongoing military offensive in Syria's rebel enclave of Idlib, threatening the prospects of Ankara's continued cooperation with Tehran and Moscow in the Syrian conflict.
Reflecting Ankara's growing alarm, Turkish Foreign Minister Mevlut Cavusoglu lashed out, saying, "Russia and Iran must stop the Syrian regime. They should realize their duties as guarantor countries."
Ankara on Tuesday summoned the Iranian and Russian ambassadors and delivered an official protest.
As part of what is known as the Astana Process, Turkey, Iran and Russia agreed to create a "de-escalation zone" in Idlib. As part of the plan, Ankara deployed soldiers in the enclave to monitor a cease-fire between Syrian government forces and rebels. Damascus and Moscow do not consider radical jihadist groups based in Idlib a part of the agreement.
But Idlib borders Turkey, and the Syrian offensive, due to its proximity to Turkish territory, is raising alarm in Ankara.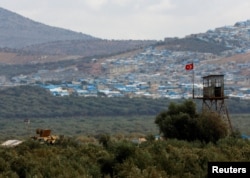 Source : https://www.voanews.com/a/syria-offensive-threatens-turkey-cooperation-with-russia-iran/4202128.html