Damascus: Syrian authorities have accused rebel fighters of executing 21 civilians, including women and children, at close range as they quit second city Aleppo last week, state media reported.
The bodies were found in two neighbourhoods in east Aleppo, state news agency SANA said late Sunday.
The head of Aleppo's forensic unit Zaher Hajjo told SANA that "21 corpses of civilian victims, including five children and four women, killed by terrorist groups" were examined.
"The bodies were found in prisons run by the terrorist groups in Sukkari and al-Kalasseh, and they were found to have been executed by gunshot at very close range," Hajjo was quoted as saying.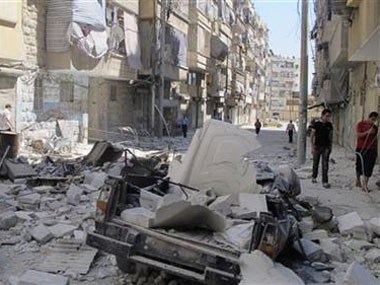 Representational image. Reuters
Source : http://www.firstpost.com/world/syria-21-civilians-executed-by-rebels-in-aleppo-say-authorities-3174836.html