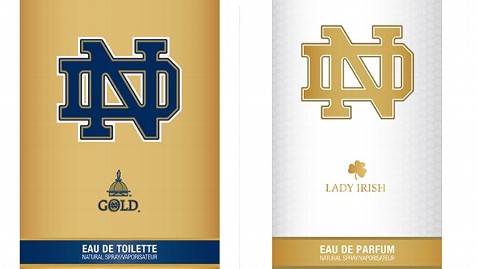 Notre Dame will release "Gold" for men and "Lady Irish" for women this fall. (Photo credit: University of Notre Dame)
This fall, Notre Dame fans will be able to prove their team spirit by the way they smell.
The school is set to release a perfume to appeal to and spritz up its massive national fanbase. It is developed by Steiner Collectables and The Cloudbreak Group, which also debuted the New York Yankees fragrance last year.
The Fighting Irish will not be alone on this sweet smelling bandwagon. MLB.com sells scents for the Boston Red Sox, Los Angeles Dodgers, and the Texas Rangers. Masik Collegiate Fragrances specializes in "unique signature scents developed for each university," including Penn State, Florida State, Auburn University, Waseda University in Tokyo, and a handful of others.
Alyssa Atzeff, marketing director for the The Cloudbreak Group, said the appeal of these school-specific brands comes from the emotional connection developed to the tight-knit university.
"When you wear a fragrance, you are embodying the essence, status, and spirit of that brand," she told ABC News via e-mail. "Students, alumni, and fans exhibit a powerful connection to their universities, a passion that can be extended through the creation of the Notre Dame fragrance."
Notre Dame director of licensing Michael Low said the decision as the next logical product to offer consumers with varying tastes and preferences.
"Some consumers enjoy purchasing apparel, some housewares, some jewelry," he said. "You ask 'why [perfume]'? I ask 'why not?'"
But it will take dough to smell like an authentic Domer. The ND Gold for men and the Lady Irish Eau De for women are expected to sell for $62 for a 3.4-ounce bottle. The fragrance will also be featured in women's shower gel and body lotion; men's hair and body wash; aftershave; hand sanitizer; and lip balm.
The specifics of the scent are remaining under lock and key, but Low said that it is subject to change based on reaction and response.
"In the end, consumers will determine the success of the various scented products," he said. "If consumers resist the inaugural scent Cloudbreak and Steiner will have to make appropriate adjustments."
Source : http://abcnews.go.com/blogs/lifestyle/2013/06/the-sweet-smell-of-victory-notre-dame-to-debut-perfume/