Share thisShare thisShare thisShare this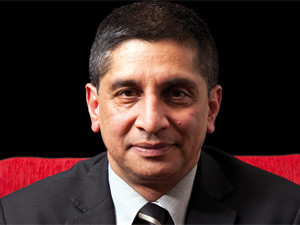 CEO and MD of Neotel, Sunil Joshi.
Six-year-old Neotel is starting to eat into Telkom's market share and has grown its customer base to 130 000 consumers and 2 400 businesses, a growth trajectory that contrasts Telkom's declining fixed-line numbers.
Neotel was set up as SA's second national operator (SNO) in 2005/06 and started out with little more than a laptop and a handful of staff. Today, it employs around 1 000 people and offers communication services to the wholesale, enterprise and consumer segments on SA's first CDMA network.
Last year, when then MD Ajay Pandey left the company, Neotel came under fire for failing to live up to the expectation and hope of South African consumers that it would offer an alternative to the incumbent Telkom.
Industry opinion was that the operator's heavy focus on the enterprise would be to its own detriment as it had yet to address what the South African public was looking for, in terms of competition and better service in the fixed-line consumer segment.
However, during the 2011/12 financial year, which ends in March, the loss-making challenger grew revenue 25% and turned profitable at the operating (Ebitda) level. It increased its business customers, and retail customers doubled - to 100 000 - during the year.
The SNO recently updated the market on its results and said it grew its enterprise base 18%, to 2 400, in the first half of the year, and added 30 000 consumer customers. Neotel grew revenue 10% in the first six months of the year compared with a market that is gaining at about 4%, and competitor Telkom, which is battling to grow its top line.
CEO and MD Sunil Joshi says if Neotel continues to gain more than a percent of the market a year, it will make its target of between 14% and 16% of market share by the 2016/17 financial year. Neotel has also upped its consumer game with several products targeted specifically at that segment, and continues to build up its network.
However, the initial expectation was that Neotel would gain 15% of Telkom's customer base within five years of its launch, a target it has failed to achieve, despite Telkom's declining fixed lines.
Joshi says: "We started the business with two people and a laptop." Fast forward six years, and the entity, which spends around R500 million a year on its network, has access to about 12 000km of fibre - of which 6 500km are in metro areas - and 130 000 consumer customers and 2 400 enterprise clients.
Meanwhile, Telkom has recently published its first-half results, and said it had 3.89 million lines, a figure that had dropped 180 000 from the first half of last year. At the end of its financial year, in March, the number of lines fell below four million for the first time.
Joshi adds Neotel's strategy at launch was to build a fibre-optic infrastructure across SA and then provide services to business and consumers, but "laying such a broad infrastructure does take time and capex". He says its recent financial gains give the company confidence that its strategy of differentiated IP and converged services is working.
Neotel is also connecting other countries in sub-Saharan Africa, says Joshi. "We have deployed world-class technology and have one of the most advanced fibre-optic capabilities in sub-Saharan Africa."
Diminishing target
Joshi notes that "every business or residential customer Neotel has, has been won by virtue of the competitiveness and capability of the solutions we provide for each segment". He adds that it will "continue to bring competitive and innovative services to business and consumer customers in South Africa".
Arthur Goldstuck, MD of World Wide Worx, notes that fears raised several years ago that Neotel would gain 15% of Telkom's base have not yet come true. Neotel's current market share is 6%, although it is growing at 2.5 times the industry average.
However, while it may appear that Telkom has mostly defended its base against Neotel, the incumbent has lost customers as people switch to mobile as an alternative solution, says Goldstuck. He says Neotel is not gathering up all the customers that Telkom loses.
Goldstuck says Neotel is "still a long way off from that magic 15%". He says the problem is that Neotel is chasing a diminishing target, which reflects Telkom's slowing performance as opposed to Neotel's gains.
Telkom is a much larger organisation than Neotel, with about 20 times as many staff, which cost it R4.7 billion in the first half of the year, Goldstuck notes. He points out that Telkom's cost structure means it has to generate far greater operational profits in order to be sustainable.
Telkom's turnover was 1.5% lower, at R16.5 billion, while group operating expenses increased 1.6%, to R15.6 billion, most of which was due to the group's fixed-line business, where voice revenue continued to slow.
The fixed-line incumbent group reported a R222 million profit, slightly lower than last year's R233 million, but an improvement on the R179 million gain it made from continuing operations at year-end.
Telkom says its results reflect the tough environment faced by fixed-line incumbents. The key factors affecting its performance included a decline in voice revenue, a 3% growth in data, infrastructure competition and increasing costs. It says while its mobile business is on track, challenges remain.
Its future performance hinges on its ability to address several key issues, including filling an execution capability gap, resolving the future of the fixed-line business, an inappropriate termination rate regime, a rigid cost structure, regulatory obligations, and government engagement, says Telkom.
Gestation phase
Neotel is positive on an earnings before interest, tax, depreciation and amortisation (Ebitda) basis, which it hit in the second quarter of the 2012 financial year, and has been positive for the last year, says Joshi. Neotel improved Ebitda 276% in the first half of the year.
However, according to Tata Communications' latest annual report, its share of Neotel's loss was about $144.91 million for the year to March - which is about R1.3 billion. Tata says: "Neotel is in its gestation phase, requiring investments to establish the required capabilities."
Over the last three years, Tata has increased its effective stake in Neotel to 68.5% in a consolidated manner after it increasingly acquired shares from other partners in the joint venture. Neotel's other owners include Tata Africa, CommuniTel (Telkom Namibia) and Nexus.
Neotel will continue to need support for some time before it turns profitable, adds Tata. Neotel contributed 12% of Tata's total $2.8 billion in revenue during the year. Joshi says Neotel aims to be earnings before interest and tax positive by the fourth quarter of the year, and then hit pre-tax profit by the last quarter of the next financial year.
Joshi adds that Neotel is on track to improve its overall profitability.
Goldstuck says the companies can be compared in terms of the growth in their customer bases. He points out that Telkom's consumer clients should be stripped out to make a more meaningful comparison between Neotel and the fixed-line incumbent.
On that basis, Telkom is probably doing better, as its business unit has seen gains in its managed data network sites, its managed data network, as well as its leased-line business, says Goldstuck.
Telkom's strategy is to achieve "leadership" in data and convergence. It says it wants to grow Telkom Business revenue by diversifying its service portfolio, regain market competitiveness in the consumer segment, consolidate its position as a wholesaler of choice, enhance operational efficiency, and focus on profitable market segments and services.
The fixed-line operator values its assets at about R36 billion and it has 144 000km of fibre in the ground. Neotel has 12 000km of fibre around SA and recently completed long-distance links between Johannesburg and Durban, and Johannesburg and Bloemfontein, giving it a national backbone. The group has also laid 6 500km of metro fibre.
The operator has space on all of SA's five submarine cables, which give it access to majority shareholder Tata's 365 000km of underwater fibre, connecting 300 cities in 200 countries across six continents.
Joshi says Neotel will spend around R500 million in capital over the next few years, and has already spent billions, to expand its footprint and connect old and new customers to its SA-wide fibre-optic footprint. Telkom, however, will spend between R18 billion and R21 billion in the next three years as it moves to an IP-based network.
Getting there
Dobek Pater, analyst at Africa Analysis, says there certainly seems to be a greater focus and a more concerted effort to achieve results from Neotel. However, he says exposure to the consumer market is likely to remain very limited, at least for the short- to medium-term.
"The consumer focus appears to be mostly on the higher-end consumer (in spite of comparatively low voice tariffs) - it's the household that uses voice and data services combined, with future video prospects. The access network footprint continues to be very limited."
Pater expects Neotel to continue improving its operations in the short-term, while long-term projections are better, based on its national long-haul network, allowing it greater participation in the domestic wholesale market and cost savings through self-provisioning of a national network.
Neotel is also expected to have a greater participation in metro/access wholesale and retail markets through fibre-optic network deployments, and service improvements in the enterprise segment will see it become a more serious contender to Telkom, Internet providers and mobile operators, says Pater.
However, Pater says Neotel has yet to establish itself as a serious alternative player but can move into that role in the medium- to long-term. "Telkom does not hold all the cards and has not held them in a number of years now. The market has changed significantly since 2005 and while Telkom is very strong in some market segments, it faces strong competition in many segments, and is a niche player in others."
While Neotel is building a broadband network and offers comparatively low tariffs, it still has a low focus in the consumer segment, says Pater. He says "in terms of the SA government's vision for an SNO, this is coming very short of what the government would like to see - a greater choice for all, or at least majority of, consumer users, of telecoms services".
However, the company has an advantage in its links with Tata, as well as international infrastructure deployment through the undersea cables as well as a multi-cable strategy to be always connected to international networks and have uninterrupted service offering.
Richard Hurst, Ovum's emerging markets analyst, says it is clear there has been a marked change in attitude in the operator and how it is going about making its offering available to South African enterprises.
"The sense that one gets is that Joshi has focused his team on immediate winnable victories, which will lead to greater victories in the short- to medium-term. Testament to this is seen in their latest half-year results, which saw revenues increase by 10%, an Ebitda growth of 276%, and the company growing at more than double the industry growth rate."
Hurst concurs that Neotel lacks a concerted focus in the consumer segment. "The focus on enterprise is a natural focus as this is where the bulk of the revenues are expected to come from, but in terms of winning the hearts and minds of the South African consumers, this may be one area that Neotel could improve."
Joshi says Neotel engaged in the consumer segment in 2008/09, which was its first foray. In 2010, the company revamped its offerings and tackled some of the issues affecting consumers, such as billing.
Neotel has been providing alternate services to "the old copper line" and is competitively priced, says Joshi. He says Neotel is driving some change in the way the industry engages the consumer segment.
Hurst says Neotel, on its current path and strategy, will make some serious inroads into the South African telecommunications market. The operator has very good assets, such as data centres, fibre networks, as well as access to valuable spectrum, which can be leveraged to deliver new services to enterprises and consumers.
Joshi explains that Neotel has two data centres - one in Johannesburg (Midrand) and the other in Cape Town. It offers a range of services, from basic colocation, to managed hosting and storage. The data centres are also connected to the 42 data centres that Tata Communications has around the world.
The next step for Neotel will be to be able to extend its fibre network and start to deliver enhanced communications as well as being part of the increased penetration of broadband services in the country, says Hurst.
Joshi notes that Neotel does have competition - and it is formidable competition - in SA, but there are some conventional services that it will compete with, and then there are some innovative services that give it a differentiated position in the market, such as its telepresence rooms.
"In that we are leaving competition behind, but in other areas, like point-to-point network services that customers seek for Internet connectivity, it does end up competing with other players in the industry," adds Joshi.
Source : http://www.itweb.co.za/index.php?option=com_content&view=article&id=60636