No news or research item is a personal recommendation to deal. Hargreaves Lansdown may not share ShareCast's (powered by Digital Look) views.
Market latest
FTSE 100 | FTSE 250 | Paris CAC 40 | Dow Jones | NASDAQ
7730.79
|

29.83
(0.39%)
20653.32
|

11.70
(0.06%)
26071.72
|

53.91
(0.21%)
7336.38
|

40.33
(0.55%)
5526.51
|

31.68
(0.58%)
NaN
|

0.00
(0.00%)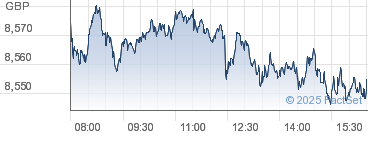 Prices delayed by at least 15 minutes
(ShareCast News) - London stocks were set to nudge a touch higher at the open on Friday following another record close the previous day, underpinned by a positive session on Wall Street.
The FTSE 100 was expected to open three points higher at 7,766.
CMC Markets analyst Michael Hewson said: "After a brief pullback for US markets on Wednesday normal service was resumed with more record closes for US equity indices yesterday as investors shrugged off concerns about tighter central bank policy and warnings about trade tensions with respect to NAFTA.
"Even bond markets which had been spooked by concerns over a possible buyers strike from China put those worries behind them after two successful auctions this week which showed a strong appetite for US debt, prompting yields to slip back from their weekly highs."
There are no major UK data releases due, but in the US, investors will eye the release of retail sales and inflation data for December at 1330 GMT.
In corporate news, Smiths Group said the net impact of the new US tax legislation on the group would be "favourable over the medium term".
In a statement, the company said it anticipated a headline effective tax rate of 27.5-28.5%, which includes the one-off adverse revaluation of the deferred tax asset position for the current financial year.
Smiths added the headline effective tax rate is estimated to be in the range of
23%-25% for the next financial year and beyond.
Restaurant and pub chain owner Michells & Butlers said trading through the core three week festive season was "strong", with LFL sales growth of
3.9%. Christmas Day was a record taking day with like-for-like sales growth of
5.4% and 225,000 meals sold.
Bovis Homes built a lower number of homes in 2017 but reported much improvement in its balance sheet and in customer satisfaction after the controversy that saw its previous chief executive depart under a cloud last summer.
The housebuilder reported a strong forward order position and expects a "significant improvement" in profitability in 2018.
Discount retailer B&M European Value reported a strong quarter of growth in the pre-Christmas period, helped by 22 new store openings and keeping prices low in the UK and Germany. For the 13 weeks to Saturday 23 December, the FTSE 250 company generated
£969.8m of revenues, up 22.7 % at constant currency.

>
The value of investments can go down in value as well as up, so you could get back less than you invest.
It is therefore important that you understand the risks and commitments. This website is not personal advice based on your circumstances. So you can make informed decisions for yourself we aim to provide you with the best information, best service and best prices. If you are unsure about the suitability of an investment please contact us for advice.
Source : http://www.hl.co.uk/shares/stock-market-news/market-reports/london-pre-open-stocks-to-nudge-higher-after-another-record-close