This research report was jointly produced with High Dividend Opportunities co-authors Jussi Askola and Philip Mause.
Introduction
Many claim to be "contrarian" investors but quickly change their minds on any potential bad news. We are all eager to outperform the market and one way to achieve this objective is to become a "value investor". It requires investors to understand business fundamentals, but most importantly, it requires great discipline, patience and emotional stability.
In this sense, human emotions are the worst enemy of the "value investor", and the story of CBL & Associates Properties (NYSE:CBL) is a prime-time example here.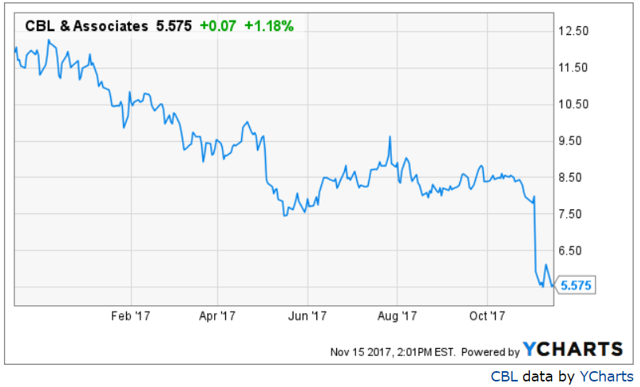 >
The share price just keeps dropping lower and lower, and almost as a self-reinforcing cycle, investors keep getting more and more pessimistic. Bulls turn bears overnight in a heartbeat, and this is especially true on Seeking Alpha where many authors quickly changed camps after just one disappointing quarter.
We believe the market is fixated on one side of the story and forgetting the big picture here. CBL is a deep value REIT trading at just 2.65 times FFO, and yet investors somehow still expect it to post favorable results and strongly sell off when this does not occur. That said, the results are not nearly as bad as the sell-offs are implying - making us even stronger bulls.
With that in mind, let's recap the key points of our initial buy thesis, go over fundamentals once again, and finally review the most popular bearish arguments.
The Buy Thesis
CBL Properties is a class-B mall REIT which suffers more from a very negative market perception rather than poor fundamentals. Investors are extremely fearful about the growth of e-commerce and its potential impact on traditional retailers, and as a result, it has sharply sold off CBL at every occasion retailers such as Macy's (M), Sears (SHLD) or J.C. Penney (JCP) posted disappointed results.
Yet, what many investors may fail to realize is that first off CBL does not generate much rent from struggling department stores, and secondly, it has proven to be capable to find new tenants when old ones vacate or go out of business. As such, the fundamentals really aren't that bad!
Occupancy is sky-high and shows no signs of decline for many years:

>
The sales per square foot have slowly been moving upward despite the growth of
Amazon (AMZN):

>
And the new lease spreads remain positive to the most part, and while the NOI is slightly down this year, it is certainly not falling off a cliff. Overall while the fundamentals do not paint a rosy picture, they are not representative of a company trading at only
2.6 times its cash flow either.
Our conclusion is that fears have been overblown as we see a clear disconnect between share price performance and fundamental performance. Despite not showing any "major" fundamental struggle, the share price of CBL has fallen from over $20 to a new low of $5.5 - a price at which we estimate that the company currently trades at over
70% discount to "Net Asset Value." (

NAV Calculations: In a recent presentation, CBL noted that it has a gross asset value of $10 billion. Subtracting $4.8 billion in debt and $625 million in preferred stock, CBL's common equity should be worth $4.5 billion. With an effective share count of 171 million, CBL's net asset value per share should be a bit more than $26.7. Put differently CBL is trading for a price which is 70% below net asset value).
It is very clear that CBL owns properties of below average quality, but this higher risk is already factored in the cap rates of the private market. Seeing that the private and public market disagrees so heavily on the value of these assets leads us to think that the stock market has no idea how to value CBL. We see LOTS of emotions, but not much fact-based reasoning. It is easy to say that "Amazon will kill malls," but the real hard facts tell a very different story as sales per square foot and occupancies remain at high levels.
Given that CBL trades at such a ridiculously low valuation, we make the arguments that even poor future results are acceptable for patient shareholders. At 2.65 times FFO, the company is priced for long lasting negative growth, an outcome that we don't believe in.
In fact, we argue that as CBL keeps redeveloping its malls, we expect the NOI to eventually stabilize or even start slightly increasing again. Moreover, we also forecast average yearly CAPEX to significantly decline once the properties are fully transitioned towards entertainment destinations. With higher NOI and lower CAPEX, we expect CBL to eventually return to POSITIVE cash flow growth, or at the very least, manage to survive for long enough for us to earn a respectable return in case of continued cash flow decline.
Put differently, we see this as a
"heads I win, tails I don't lose much" type of situation. The valuation has gotten so cheap that even negative growth can get us far, and if we instead get lucky enough to experience a recovery to positive growth, the upside could be massive.
To sum it up: We see CBL as an opportunity to buy mall properties at an extreme discount to what private market investors are paying for them. These properties generate a 37% cash return out of which we collect a rent of 14.5% (the dividend yield) and the rest is reinvested to improve these properties. We expect these improvements to eventually be reflected in stronger fundamentals as the management has proven to be able to earn high returns on each reinvested dollar. This is a high-risk stock, but offered at this price, we are happy to take it. How often do you get to invest in a real estate at a 60-70% discount in a liquid, diversified and professionally managed manner?
Short-Term Pain for Long-Term Gain (Third-Quarter Update)
We really do not want to spend too long on the third-quarter results as it has already gained way too much coverage in our opinion. More importantly, we want to discuss the reasoning of the bears in a later section of this report.
The third quarter was not pretty, but the reaction of the market was extremely misplaced due to the already irrationally high fears. We find it hard to justify a 30% drop in share price when the company already trades at a 70% discount to NAV, and really only cut its guidance by 5%. A 5% cut in guidance does not warrant a 30% loss in value, especially not when the value of the underlying assets remains identical.
There was clear panic selling from investors, which was exacerbated by short-sellers. To a large extent, this is the result of the 25% dividend cut as it caused investors to run for the exit regardless of the share price. We view this very differently. First off, we note that the dividend cut was not a necessary step given the good liquidity position; rather it was a conservative step to accelerate property redevelopments and deleveraging. What it does is really
create short-term pain for long-term gain.
Furthermore, the market is failing to note that the reduced dividend does not change the value of the company or its assets. The difference is that the company now has even more capital for redevelopments which eventually is the real money maker for shareholders. It is purely a capital allocation decision. Given that the management is one of the biggest owners of shares, I trust that this is the right action for a better and safer long-term performance.
Other relevant numbers were also mostly down with FFO showing a 12.3% decrease, but this is mostly due to strategic decisions (property dispositions), and not operational troubles. More importantly, the NOI only showed a decline of 1.6% thus far in 2017, the sales per square foot remained stable this quarter, and the
occupancy showed a nice increase. As such, we conclude that the results really aren't as bad as the market is implying. The fundamentals remain relatively resilient to the most part and the market simply overreacted to what we consider to be strategic decisions (dispositions causing decline in FFO and cut in dividend in favor of redevelopments) of the management.
The main takeaways for us are the following:
The occupancy remains at very high levels and even showed a nice increase this quarter. It proves once again that CBL is able to find new tenants when it sits on empty space.
The sales per square foot are NOT falling off a cliff like the share price. With this level of sales, we consider the rents to be secured as most tenants are expected to remain profitable.
The NOI decrease is minimal when compared to massive share price decline. Moreover, it was mostly caused by temporary issues such as bankruptcies which can be solved fairly quickly by releasing the space.
Whether you like the strategic decisions of the managements or not, they certainly know better than us how to maximize long-term value, and given their high insider ownership, they are expected to have the right incentives to do the right thing for shareholders.
As an ending remark, we would simply repeat that
sometimes short-term pain is worth the long-term gain. We think that CBL falls in this category and that investors should worry less about quarterly results and rather look at the long-term picture which remains mostly unchanged.
Extreme Pessimism from Bears
We have identified five main bearish counter-arguments to our thesis, and we want to shortly address each of them individually:
E-commerce will kill Class B malls...
If CBL is so cheap, why isn't it buying back shares...
Capex is really an expense at CBL...
Negative FFO growth is here to stay...
After the recent quarter, CBL is dead money...
Bearish Counter-argument #1 : E-commerce will kill Class B malls...
The market is in full panic mode as on one hand it sees Amazon growing at a fast pace, and on the other hand, it sees retailers such as J.C. Penney, Macy's, and Sears losing significant market share. Not good for brick-and-mortar, right? This is pretty much how the market thinks today when considering investments in retail REITs which are the landlords of retailers. The market perceives high risk of bankruptcies, loss in rents, and ultimately even a total shutdown of many malls. Useless to say, this very negative market sentiment has resulted in sharp share price declines for most retail REITs.
Yet, this is far from telling the full story. It is clear that Class B malls will be under pressure as e-commerce keeps growing, but will it really come replace the shopping done at malls?
We do not believe so. On the contrary, we believe that malls, including Class B, are attractive assets to our society and that their utility is not in danger. It is clear that e-commerce will keep on growing and that certain tenants will suffer. That said,
CBL is not a retailer, it is a landlord. If tenants vacate, it can replace them with other ones that may be more resilient to e-commerce. Some of the large tenants that we know today will disappear, but others will come replace them. It is just
part of retailing.
B-Malls are still doing lots of business, and consumers still prefer shopping at malls to shopping online by a large margin. As of 2016, online sales were only about 10% of total retail sales. This number will grow over time, but the significance of this is not as substantial as the market is predicting. We don't know about you, but we do still enjoy going out to the mall. We actually think that shopping at a mall is
much more entertaining
than shopping online which we find quite boring. People enjoy going out to see, feel, touch the product that they are considering buying. Malls provide a different shopping experience that the internet simply cannot fully replicate.
Moreover, the battle between malls and e-commerce is
NOT a zero-sum game.
>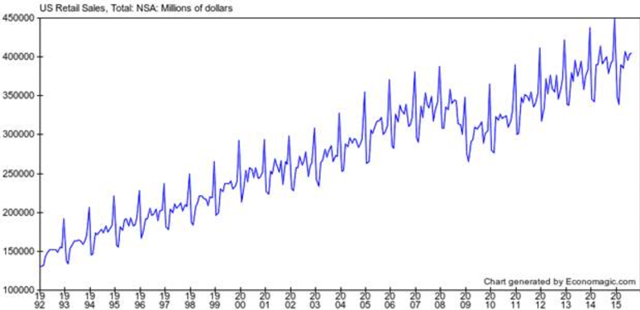 Source: >Economagic
US retail sales have grown at an average of 4.5% per year since 1992. As such, the pie keeps on growing, and even though Amazon-like firms grew their share of the pie, it does not necessarily come exclusively at the cost of traditional retailers. In less than 30 years, US retail sales have almost tripled,
and as such, even if e-commerce takes a larger share of the pie in the future, the total retail sales are also expected to be much higher assuming that the growth continues.
Therefore,
we do not anticipate that one will replace the other, instead they will co-exist together, and Class B malls will adapt themselves to the changing environment by focusing more and more on entertainment. This is exactly what CBL has done as it has consistently improved the quality of its portfolio by replacing poorly performing tenants with entertainment-based tenants that are less affected by e-commerce. It has allowed the REIT to maintain fairly favorable mall-level performance with stable or even growing sales per square foot DESPITE the growth of Amazon.
One point to note,
Wal-Mart (WMT),
Macy's,
Gap (NYSE:GPS),
Abercrombie & Fitch (NYSE:ANF),
Foot Locker (NYSE:FL),
Costco (COST), and several others delivered strong earnings reports right in front of the holiday shopping rush. Many reported third-quarter results showing very strong earnings, which reinforces the thesis that brick and mortar retail is not dead.
Bearish Counter-argument # 2 : If CBL is so cheap, why isn
'
t it buying back shares
…
This is a fair question that many investors ask. The answer is that it is not that simple. The goal of CBL is to maximize value for its shareholders for the long run, and buying back shares just isn't the best option here. It is important to remember that the reason why CBL is so cheap today is because the market perceives it as a lower-quality mall REIT. As long as this perception persists, CBL's share price will remain low. Therefore, it is crucial for CBL to work on its image by improving its portfolio and transitioning towards higher-quality assets. Eventually, we expect this to achieve a better market perception and unlock significant value to shareholders.
So, put differently, investing into upgrading its quality profile should result in more value creation over the long run than some short-term buybacks. It also lowers the risk profile of CBL and secures its cash flow. Capital allocation decisions are never simple, and while we would be happy to see some buybacks, we have full trust in CBL's management team which owns a significant amount of its own shares.
Bearish Counter-argument #3 : Capex is really an expense at CBL
…
A few analysts have recently been pointing out that CBL's dividend coverage remains tight even after the cut. They argue that given the high and recurring capex of CBL, it should be considered as a regular cash expense and deducted from the cash flow. We disagree here.
It may be somewhat misleading to say that CBL has a 250% coverage ratio as the bears are right on the liquidity requirement of the capex investments, but it certainly is also misleading to say that CBL has "only" a 100% coverage ratio. The reality lies somewhere in between.
It is well known to everyone that the pressure from Amazon-like companies is today forcing retail REITs into costly transitions in which substantial capex needs to be invested to maintain revenue. This is particularly true for lower-class REITs such as CBL,
Washington Prime Group (WPG) and
Pennsylvania Real Estate Investment (PEI) which use close to half of their cash flow for redevelopment projects, as they transition properties to become entertainment destinations that are more resilient to e-commerce. Here comes the mistake that we believe some analysts are making:
they believe that this currently high capex run rate is permanent, but we believe that it is finite. Once all the properties are transitioned to entertainment destinations, they will become more stable and require significantly less capex in the future. The retail sector goes through long cycles - requiring mall owners to occasionally invest significant capital to maintain and grow revenue. This time, the growth of e-commerce is forcing malls to transition towards entertainment. This has already been happening for many years, and it will still take many more.
Looking at a 20-year history of capex, it is fair to note that it has remained high and growing over time. This is true, but it is crucial to also look at the context here. The portfolio of CBL has considerably grown and the
FFO grown much more than the Capex itself. So, there is no big surprise here. The significant increase of the recent years is not here to stay permanently, rather it is caused by the
temporary transitioning towards
"entertainment-based
" properties.
This is expensive, takes time, but most importantly, it creates substantial value to shareholders. Bears seem to think that capex is like money thrown in the trash, and yet each capex dollar is earning a high return, reducing the risk profile of the company, increasing the value of its properties, and ultimately helping CBL get back to stable/positive growth.
Once the transition is over, the capex will be lowered - unlocking lots of cash flow to investors. Given that the FFO yield is upwards of 37%, the upside is very material.
Bearish Counter-argument #4 : Negative FFO growth is here to stay
…
The market is pricing CBL for many years for
NEGATIVE GROWTH, but what if they ended up returning to
POSITIVE GROWTH?
Sure that may at first sound very unlikely for a stock selling at just 2.6 times FFO and a small fraction of its NAV, but after doing property level research, it becomes clear to us that
CBL has a good shot at not only maintaining its current profitability but also improving it in the long run.
What bears fail to realize is that many of today's struggling retailers such as Sears, JCP and Macy's
do not pay much rent at all because of their anchor nature. As such, losing Sears-type tenants should not necessarily be seen as a loss, but rather an
opportunity to find better tenants and increase rents.
And this does make lots of sense because when you look at it, Sears-type stores do not really even serve their anchor role anymore. Back in the days, these big box retailers would get hefty discounts on their rent bills because they would attract lots of traffic to the mall and every tenant would benefit from it. But do people really still go shopping to a specific mall because there is a Sears or J.C. Penney? We doubt it. We think that the role of anchor tenants to other specialty retailers has declined over the years as they are now able to drive their own traffic to a large extent.
Therefore, it may now be the time for Mall REITs to unlock this hidden value which is the space occupied by low-rent paying anchor tenants. For example, JCP makes up less than 1% of CBL revenues, but occupies a disproportionately large amount of its floor space. As JCP slowly closes down stores and vacate space, CBL is able to redevelop and re-let to better tenants. It may result in high returns as the rent paid by the new tenant may be higher, AND it may also benefit all the other tenants if it results in more traffic.
Here is a real-life example of a Sears store redevelopment undertaken by CBL: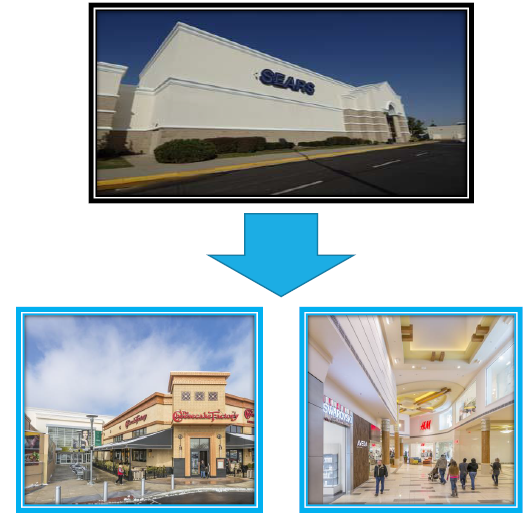 Source: CBL Presentation
CBL's redevelopments have averaged an 8% unleveraged return - creating value and ancillary benefits for the whole centers that the market is today ignoring. Let's not also forget that still last year, CBL posted positive FFO growth.
It is not such a long time ago that CBL was a growing company, and we would not be surprised if it eventually managed to turn around and end its streak of negative growth.
Bearish Counter-argument #5: After the recent quarter, CBL is dead money
…
We have read this a few times now, and really don't understand the reasoning. Supposedly, now that CBL has started trending downwards, it will keep doing so and reach ever lower numbers. The market has lost its confidence in CBL, and can't trust the current dividend after it being cut recently. Put differently, investors are asking themselves when the next cut will occur?
Once again, we see this very differently from the market. Now that CBL is priced for horrific performance, we expect even tiny bits of positive news to result in immediate upside. The market expects CBL to show ever deteriorating fundamentals as time goes on, so even a small "pause" in negative news could bring some optimism to the situation. At 2.65 times FFO, even if the shares doubled in value, they would remain very modestly valued.
In fact, we would go as far to say that investing right after a dividend cut could be a great timing for new shareholders. After the recent drop, the dividend yield is now even higher and safer as before the cut. Moreover, the value of the properties is unaffected by the dividend cut - resulting in an even larger discount to NAV as previously.
We have in the past had good success investing in REITs which recently suffered a large drop in value after a disappointing quarter. A great example this year was
Spirit Realty Trust (SRC), a net lease REIT which dropped by more than 20% after cutting its guidance by 9%. In a very similar way, we argued back then in a public article that the market had overreacted to the news, and here we are five months later, the share price has recovered by about 30%.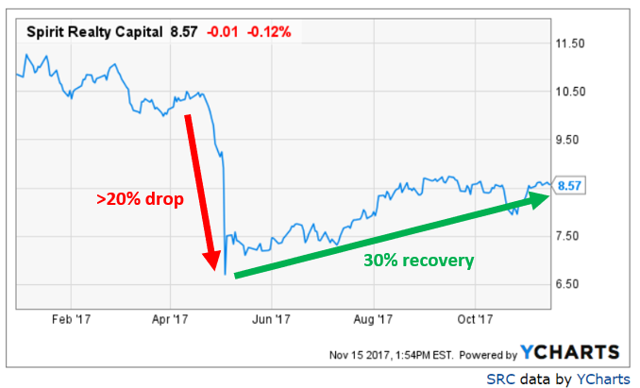 >
While we cannot predict near-term market prices, we expect a similar recovery to eventually happen for CBL. This may take long, but ultimately as the management keeps improving the portfolio and stabilize FFO, we expect a drastic repricing in the shares of CBL.
Final Thoughts
We remain firm… CBL is a STRONG BUY, and we are judiciously and opportunistically adding to our position at "High Dividend Opportunities". No one likes to see their holdings sharply fall in value due to short0term volatility, but this is often the price to pay when you target market-beating returns.
Short-term pain for long-term gain is the pillar of this thesis. The short term continues to look uncertain as the company moves forward with its redevelopment projects and the market just hates it. However, if you have patience and a longer-term orientation, it is evident that CBL has been overly punished as fundamentals have not yet deteriorated all that much.
It is very clear to us that it is not all positive at CBL. The company is going to remain under deep stress and the management will continue to experience massive challenges going forward. The investment grade rating was recently lost, the releasing needs remain elevated, and tenant bankruptcies will continue to occur.
That said, to repeat ourselves one last time,
trading at only 2.65 times FFO, CBL has ENORMOUS challenges priced in. We hold CBL for the 14.5% yield and the massive upside which we expect to be realized over the long run. At just 6 times its depressed 2017 FFO, CBL would trade at $12.6 per share compared to its recent lows of $5.50 per share.
Considering that CBL keeps executing its strategic plan successfully, we expect the FFO to eventually stabilize, the market perception to improve, and the shares to be repriced at a multiple around 6 times FFO.
Be patient, be happy.
If you enjoyed this article and wish to receive updates on my latest research, click "Follow" next to my name at the top of this article.
About "High Dividend Opportunities"
High Dividend Opportunities is a leading and comprehensive dividend service ranked #1 in dividends & income on Seeking Alpha and is dedicated to high-yield securities trading at attractive valuations. It includes a managed portfolio currently yielding 9.5% - based on a selection of the best and cheapest high-yield Master Limited Partnerships, BDCs, U.S. Property REITs, Preferred Stocks, and CEFs.
We invite readers for a 2-week free trial to have a closer look at our investment strategy, our Top Buy list and our extensive report on the "Best High-Yield Stocks" to hold for the next 12 months." For more info, please

>click HERE

.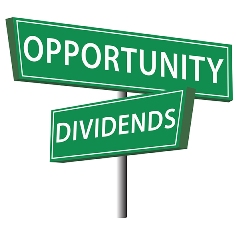 Note: All images/tables above were extracted from the company's website, unless otherwise stated.
Disclosure: I am/we are long CBL, WPG.
I wrote this article myself, and it expresses my own opinions. I am not receiving compensation for it (other than from Seeking Alpha). I have no business relationship with any company whose stock is mentioned in this article.
Source : https://seekingalpha.com/article/4126332-backing-cbl-properties-strong-buy-yield-14_5-percent