President Donald Trump said that President Vladimir Putin had assured him again Saturday that Russia did not interfere in the 2016 presidential campaign, and indicated that he believed Putin's sincerity, drawing immediate criticism from lawmakers and former intelligence officials who assessed that the meddling took place.
"I asked him again," Trump said after what he described as several brief, informal chats with Putin in Danang, Vietnam, where they were attending a regional conference. "You can only ask so many times... He said he absolutely did not meddle in our election. He did not do what they are saying he did.
"I really believe that when he tells me that, he means it... I think he's very insulted, if you want to know the truth," Trump told reporters travelling with him aboard Air Force One from Danang to Hanoi, on the ninth day of a long Asia tour. Trump voiced similar conclusions after his only previous meeting with Putin, last July in Germany.
Trump's response to questions about his conversations with Putin was a jarring return to the more insular preoccupations of Washington after more than a week of what has been a trip filled with pageantry and pledges of mutual admiration, but few substantive outcomes, between Trump and Asian leaders.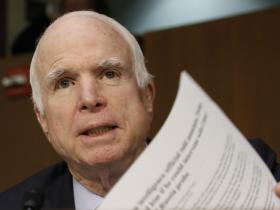 >
John McCain says "nothing 'America First'" about Putin-Trump meeting
Trump suggested that what he called the "artificial Democratic hit job" of investigations of possible collusion between his campaign and Russia were somehow preventing US-Russia cooperation on a range of issues, including North Korea. "It's a shame," he said, "because people will die because of it."
In his own news conference after their talks, Putin said he knew "absolutely nothing" about Russian contacts with Trump campaign officials, and called reports that a campaign official met with his niece "bollocks," according to an interpreter.
"They can do what they want, looking for some sensation," Putin said of the investigations. "But there are no sensations."
Trump described the former top US intelligence officials who concluded in January that the tampering took place - including former director of national intelligence James Clapper Jr and former CIA director John Brennan - as "political hacks." He called former FBI director James Comey, who testified before Congress that Trump asked him to drop an investigation of his campaign's connections to Russian officials, a proven "liar" and a "leaker."
Clapper said in a statement that "the president was given clear and indisputable evidence that Russia interfered in the election. His own DNI and CIA director have confirmed the finding in the intelligence community assessment. The fact that he would take Putin at his word over the intelligence community is unconscionable."
Brennan declined to comment.
In a statement, the CIA said that Director Mike Pompeo "stands by and has always stood by the January 2017 Intelligence Community assessment... with regard to Russian election meddling." That position, it said, "has not changed." The assessment also concluded that Russia had acted to promote Trump's victory over Democrat Hillary Clinton. Although Pompeo said last month that intelligence agencies had determined that Russian interference had not altered the electoral outcome, the assessment did not address that question.
Former CIA director Michael V. Hayden said he was so concerned by Trump's statement that he contacted the agency to confirm that it stood by the January assessment. He described Trump's remarks as "egregious comments on the character of folks who have been public servants... [and] the public should know that these guys are thoroughgoing professionals, and what the president left unsaid is that the people he put into these jobs agree with the so-called hacks."
Senior officials in the intelligence community will be dismayed by the disparagement of two respected intelligence veterans, Hayden said, and "people have a right to ask at senior levels: 'Does what I do make a difference anymore?' "​
Michael Morell, a former acting director and deputy director of the CIA, said Trump was "biting hook, line and sinker" the word of Putin, a former intelligence officer who is a "trained liar and manipulator." Although progress had been made in the intelligence community's initial raw relationship with Trump, Morell said in an email, "this will most definitely be a step backward."
Senator Mark Warner, Virginia, the top Democrat on the Senate Intelligence Committee, one of the panels investigating Russian interference in the presidential campaign, said he was left "completely speechless" by Trump's willingness to take Putin's word "over the conclusions of our own combined intelligence community."
Representative Adam Schiff, California, the top Democrat on the House Intelligence Committee, said in a statement: "Instead of criticising the Russian leader for the audacity of his interference and denials, he attacked Directors Brennan, Clapper and Comey... But the President fools no one. He understands that the Russians intervened through the hacking and dumping of his opponents emails, the fruits of which he exploited time and again on the campaign trail."
Several Republican members of the Senate and House intelligence panels did not respond to requests to comment on Trump's remarks.
Senator John McCain, Republican-Arizona, said in a statement that "there's nothing 'America First' about taking the word of a KGB colonel over that of the American intelligence community... Vladimir Putin does not have America's interests at heart. To believe otherwise is not only naive but also places our national security at risk."
Read more
Trump's latest comments on the subject came as investigations of allegations that his campaign colluded with Russia have moved into a new, more visible and potentially consequential phase.
Special counsel Robert Mueller filed criminal charges two weeks ago against three people - including a former Trump campaign chairman and two lower-level campaign advisers - and more charges are expected.
Although Trump, his family members and close aides continue to reject any suggestion of collusion, new evidence has emerged that people in Trump's orbit communicated with Russians during the campaign. Three congressional committees investigating the matter are focused in part on a meeting that occurred in Trump Tower in June 2016, attended by Trump's son Donald Trump Jr; his son-in-law, Jared Kushner; and then-campaign manager Paul Manafort, with a well-connected Russian lawyer offering negative information about Clinton.
In his news conference, Putin said he and Trump "hardly know each other." He described the US President as "very professional, very friendly, he behaves very appropriately," and added, "Unfortunately, we did not have enough time to get down to some more details, because we have many matters to discuss."
The two leaders issued a joint statement pledging to continue their cooperation to defeat the Islamic State in Syria, and their commitment to UN-brokered peace negotiations between the government of Syrian President Bashar Assad and opponents fighting to oust him.
Putin also said that he and Chinese President Xi Jinping, who held a long meeting at the Asia-Pacific Economic Cooperation forum in Danang, had "similar views" on various issues, including North Korea. "Our views completely coincide. . . . We do not accept the nuclear status of that country," Putin said.
Trump said in his airborne remarks to reporters that a Xi statement calling for the denuclearisation of North Korea, which depends on China for its economic survival, was a major step forward that "a lot of people... didn't pick up."
Russia, Trump said, also could be "tremendously helpful" on North Korea but was prevented by "this artificial Democrat barrier" of the election investigations. "I think it's a shame that something like that can destroy a very important potential relationship between two countries that are very important countries," Trump said. "Russia could really help us."
Putin blamed the lack of a formal meeting with Trump at the conference on the "failure" of their respective teams, and said they would be "lectured" on the lapse.
Relations with the United States, Putin said, are "still in crisis," even though Russia is "saying that we are ready to turn that page over and go forward and look into the future."
The biggest names involved in the Trump-Russia investigation
The biggest names involved in the Trump-Russia investigation
1/17

Paul Manafort

Mr Manafort is a Republican strategist and former Trump campaign manager. He resigned from that post over questions about his extensive lobbying overseas, including in Ukraine where he represented pro-Russian interests. Mr Manafort turned himself in at FBI headquarters to special counsel Robert Mueller's team on Oct 30, 2017, after he was indicted under seal on charges that include conspiracy against the United States, conspiracy to launder money, unregistered agent of a foreign principal, false and misleading US Foreign Agents Registration Act statements, false statements, and seven counts of failure to file reports of foreign bank and financial accounts.

Getty

2/17

Rick Gates

Mr Gates joined the Trump team in spring 2016, and served as a top aide until he left to work at the Republican National Committee after the departure of former Trump campaign manager Paul Manafort. Mr Gates' had previously worked on several presidential campaigns, on international political campaigns in Europe and Africa, and had 15 years of political or financial experience with multinational firms, according to his bio. Mr Gates was indicted alongside Mr Manafort by special counsel Robert Mueller's team on charges that include conspiracy against the United States, conspiracy to launder money, unregistered agent of a foreign principal, false and misleading US Foreign Agents Registration Act statements, false statements, and seven counts of failure to file reports of foreign bank and financial accounts.

AP

3/17

George Papadopoulos

George Papadopoulos was a former foreign policy adviser for the Trump campaign, having joined around March 2016. Mr Papadopoulos plead guilty to federal charges for lying to the FBI as a part of a cooperation agreement with Special Counsel Robert Mueller's investigation. Mr Papadopoulos claimed in an interview with the FBI that he had made contacts with Russian sources before joining the Trump campaign, but he actually began working with them after joining the team. Mr Papadopoulos allegedly took a meeting with a professor in London who reportedly told him that Russians had "dirt" on Hillary Clinton. The professor also allegedly introduced Mr Papadopoulos to a Russian who was said to have close ties to officials at the Russian Ministry of Foreign Affairs. Mr Papadopoulos also allegedly was in contact with a woman whom he incorrectly described in one email to others in the campaign as the "niece" to Russian President Vladimir Putin.

Twitter

4/17

Donald Trump Jr

The President's eldest son met with a Russian lawyer - Natalia Veselnitskaya - on 9 June 2016 at Trump Tower in New York. He said in an initial statement that the meeting was about Russia halting adoptions of its children by US citizens. Then, he said it was regarding the Magnitsky Act, a US law blacklisting Russian human rights abusers. In a final statement, Mr Trump Jr released a chain of emails that revealed he took the meeting in hopes of getting information Ms Veselnitskaya had about Hillary Clinton's alleged financial ties to Russia. He and the President called it standard "opposition research" in the course of campaigning and that no information came from the meeting. The meeting was set up by an intermediary, Rob Goldstone. Jared Kushner and Paul Manafort were also at the same meeting.

Getty Images

5/17

Jared Kushner

Mr Kushner is President Donald Trump's son-in-law and a key adviser to the White House. He met with a Russian banker appointed by Russian President Vladimir Putin in December. Mr Kushner has said he did so in his role as an adviser to Mr Trump while the bank says he did so as a private developer. Mr Kushner has also volunteered to testify in the Senate about his role helping to arrange meetings between Trump advisers and Russian Ambassador to the US Sergey Kislyak.

Getty Images

6/17

Rob Goldstone

Former tabloid journalist and now music publicist Rob Goldstone is a contact of the Trump family through the previously Trump-owned 2013 Miss Universe pageant, which took place in Moscow. In June 2016, he wrote to Donald Trump Jr offering a meeting with a Russian lawyer, Natalya Veselnitskaya, who had information about Hillary Clinton. Mr Goldstone was the intermediary for Russian pop star Emin Agalaraov and his father, real estate magnate Aras, who played a role in putting on the 2013 pageant. In an email chain released by Mr Trump Jr, Mr Goldstone seemed to indicate Russian government's support of Donald Trump's campaign.

AP images

7/17

Aras and Emin Agalarov

Aras Agalarov (R) is a wealthy Moscow-based real estate magnate and son Emin (L) is a pop star. Both played a role in putting on the previously Trump-owned 2013 Miss Universe pageant in Moscow. They allegedly had information about Hillary Clinton and offered that information to the Trump campaign through a lawyer with whom they had worked with, Natalia Veselnitskaya, and music publicist Rob Goldstone.

Getty Images

8/17

Natalia Veselnitskaya

Natalia Veselnitskaya is a Russian lawyer with ties to the Kremlin. She has worked on real estate issues and reportedly counted the FSB as a client in the past. She has ties to a Trump family connection, real estate magnate Aras Agalarov, who had helped set up the Trump-owned 2013 Miss Universe pageant which took place in Moscow. Ms Veselnitskaya met with Donald Trump Jr, Jared Kushner, and Paul Manafort in Trump Tower on 9 June 2016 but denies the allegation that she went there promising information on Hillary Clinton's alleged financial ties to Russia. She contends that the meeting was about the US adoptions of Russian children being stopped by Moscow as a reaction to the Magnitsky Act, a US law blacklisting Russian human rights abusers.

Getty Images

9/17

Mike Flynn

Mr Flynn was named as Trump's national security adviser but was forced to resign from his post for inappropriate communication with Russian Ambassador to the US Sergey Kislyak. He had misrepresented a conversation he had with Mr Kislyak to Vice President Mike Pence, telling him wrongly that he had not discussed sanctions with the Russian.

Getty Images

10/17

Sergey Kislyak

Mr Kislyak, the former longtime Russian ambassador to the US, is at the centre of the web said to connect President Donald Trump's campaign with Russia.

Reuters

11/17

Roger Stone

Mr Stone is a former Trump adviser who worked on the political campaigns of Richard Nixon, George HW Bush, and Ronald Reagan. Mr Stone claimed repeatedly in the final months of the campaign that he had backchannel communications with WikiLeaks founder Julian Assange and that he knew the group was going to dump damaging documents to the campaign of Democratic candidate Hillary Clinton - which did happen. Mr Stone also had contacts with the hacker Guccier 2.0 on Twitter, who claimed to have hacked the DNC and is linked to Russian intelligence services.

Getty Images

12/17

Jeff Sessions

The US attorney general was forced to recuse himself from the Trump-Russia investigation after it was learned that he had lied about meeting with Russian Ambassador to the US Sergey Kislyak.

Getty Images

13/17

Carter Page

Mr Page is a former advisor to the Trump campaign and has a background working as an investment banker at Merrill Lynch. Mr Page met with Russian Ambassador to the US Sergey Kislyak during the 2016 Republican National Convention in Cleveland. Mr Page had invested in oil companies connected to Russia and had admitted that US Russia sanctions had hurt his bottom line.

Reuters

14/17

Jeffrey "JD" Gorden

Mr Gordon met with Russian Ambassador to the US Sergey Kislyak during the 2016 Republian National Convention to discuss how the US and Russia could work together to combat Islamist extremism should then-Republican presidential candidate Donald Trump win the election. The meeting came days before a massive leak of DNC emails that has been connected to Russia.

Creative Commons

15/17

James Comey

Mr Comey was fired from his post as head of the FBI by President Donald Trump. The timing of Mr Comey's firing raised questions around whether or not the FBI's investigation into the Trump campaign may have played a role in the decision.

Getty Images

16/17

Preet Bharara

Mr Bahara refused, alongside 46 other US district attorney's across the country, to resign once President Donald Trump took office after previous assurances from Mr Trump that he would keep his job. Mr Bahara had been heading up several investigations including one into one of President Donald Trump's favorite cable television channels Fox News. Several investigations would lead back to that district, too, including those into Mr Trump's campaign ties to Russia, and Mr Trump's assertion that Trump Tower was wiretapped on orders from his predecessor.

Getty Images

17/17

Sally Yates

Ms Yates, a former Deputy Attorney General, was running the Justice Department while President Donald Trump's pick for attorney general awaited confirmation. Ms Yates was later fired by Mr Trump from her temporary post over her refusal to implement Mr Trump's first travel ban. She had also warned the White House about potential ties former National Security Adviser Michael Flynn to Russia after discovering those ties during the FBI's investigation into the Trump campaign's connections to Russia.

Getty Images
Putin noted that Russia's relations with China, a country that he said would soon be "the biggest economy" in the world, are growing stronger. The United States, he said, is losing out on profitable investments in Russia, presumably because of sanctions.
"If you don't want to work," Putin said, "there will be others. Your competitors will come and take your place."
The Washington Post
Source : http://www.independent.co.uk/news/world/americas/donald-trump-vladimir-putin-us-election-meddling-denial-asia-summit-a8051706.html