Al Assir was the Khashoggi empire's representative in Spain and a broker of big weapons sales to African armies. He'd ensconced himself among the rich and famous, the set that skied in Gstaad, Switzerland, and summered in the south of France. The London-based Arabic-language magazine Sourakia wrote, "The miracle of Al Assir is that he will have lunch with Don Juan Carlos [the king of Spain], dinner with Hassan II [the king of Morocco], and breakfast the next day with Felipe González [the prime minister of Spain]."
Manafort suggested to his partners that Al Assir might help connect the firm to clients around the world. He wanted to increase the firm's global reach. Manafort's exploration of the outermost moral frontiers of the influence business had already exposed him to kleptocrats, thugs, and other dubious characters. But none of these relationships imprinted themselves more deeply than his friendship and entrepreneurial partnership with Al Assir. By the '90s, the two had begun to put together big deals. One of the more noteworthy was an arms sale they helped broker between France and Pakistan, lubricated by bribes and kickbacks involving high-level officials in both countries, that eventually led to murder allegations.
>The arms dealer Al Assir introduced Manafort to an aristocratic world that exceeded anything he had ever known.
It all arguably began with a 1993 dinner hosted by Manafort in his Virginia home and attended by Pakistan's prime minister, Benazir Bhutto. Bhutto had just returned to power after three years in the opposition, and Manafort badly wanted her business. She knew of him as a skilled manipulator of public opinion, and throughout the meal, Manafort displayed his most strategic, most charming self. One former Pakistani official who attended the dinner told me that Bhutto came away determined to make use of his services. She suggested that Manafort work with the Pakistani intelligence service. Spooks in Islamabad had observed the international rush to hire Washington lobbyists, and they had been clamoring for one of their own.
At about that same time, Pakistan was looking to upgrade its submarine fleet, and European arms contractors raced to hawk their wares. In the end, France's state-owned manufacturer won the contract—and Al Assir was added as an intermediary at the last minute. An ensuing scandal that is still unfolding, some 20 years later, would entangle both Al Assir and Manafort. It entailed alleged kickbacks into the 1995 presidential campaign of Édouard Balladur, apparently arranged by the French defense minister. Al Assir seems to have been a key conduit of the kickbacks. Years later, in 2002, a car bomb went off in Karachi, killing 11 French naval engineers in transit to the shipyard where the submarines were being assembled, along with three Pakistanis. One theory, fervently supported by some of the engineers' families, holds that the bombing was orchestrated by Pakistani officials who were disgruntled that the bribes promised to them as part of the deal had never arrived.
Manafort was not a central figure in this scandal, and was never charged with any wrongdoing. But as the former Pakistani official told me, "He was an introducer—and he received a fee for his part." Documents show that Manafort earned at least $272,000 as a consultant to the Balladur campaign, although, as Manafort later conceded to French investigators, it was Al Assir who actually paid him. (Balladur has denied any wrongdoing and doesn't recall Manafort working for him. Al Assir could not be reached for comment on this story.)
Manafort and Al Assir were more than business partners. "They were very brotherly," one mutual acquaintance of theirs told me. Manafort took Al Assir as his guest to George H. W. Bush's inauguration, in 1989. When Al Assir and his second wife had a child, Manafort became the godfather. Their families vacationed together near Cannes. Al Assir introduced Manafort to an aristocratic world that exceeded anything he had ever known. "There's money, and there's really big money," a friend of Manafort's told me. "Paul became aware of the difference between making $300,000 and $5 million. He discovered the south of France. Al Assir would show him how to live that life."
Colleagues at Black, Manafort, Stone and Kelly noticed changes that accompanied the flowering of the friendship. Manafort's sartorial style began to pay homage to Al Assir, with flourishes of the European dandy. Suddenly he started wearing unconventional shirts and suede loafers without socks. In the firm's early years, Manafort had been a fixture of the office, a general presiding over his headquarters. But now he frequently flew off to France or Spain, collaborating with Al Assir on projects that remained a mystery to his subordinates, and even to his partners. "Paul went off on different foreign things that none of us knew about," Peter Kelly told me.
Manafort's lifestyle came to feature opulent touches that stood out amid the relative fustiness of Washington. When Andrea expressed an interest in horseback riding, Manafort bought a farm near Palm Beach, then stocked it with specially bred horses imported from Ireland, which required a full-time staff to tend. John Donaldson, Manafort's friend, recalls, "He was competing with the Al Assirs of the world—and he wanted to live in that lifestyle."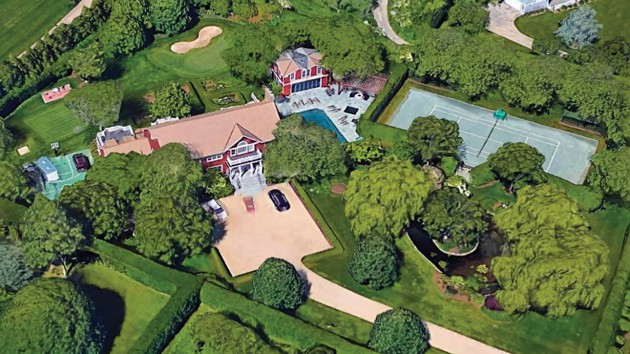 There were always suspicions among Manafort's colleagues in the firm that he was making money for himself without regard for his partners. Al Assir's occasional appearance in the international press lent these suspicions weight. One deal brokered by Al Assir helped crash a private bank in Lisbon. In 2002, he and Manafort persuaded the bank to invest 57 million euros in a Puerto Rican biometrics company. According to reporting by the Portuguese newspaper Observador, Manafort was the lead American investor in the company; his involvement helped justify the bank's investment, despite evidence of the company's faulty products and lax accounting. Al Assir is alleged to have extracted bloated commissions from the deal and to have pocketed some of the bank's loans. Manafort reportedly made $1.5 million selling his shares of the biometrics firm before the company eventually came tumbling down.
Stories about Manafort's slipperiness have acquired mythic status. In the summer of 2016, Politico's Kenneth Vogel, now with The New York Times, wrote a rigorous exegesis of a long-standing rumor: Manafort was said to have walked away with $10 million in cash from Ferdinand Marcos, money he promised he would deliver to Ronald Reagan's reelection campaign (which itself would have been illegal). Vogel relied in part on the 1996 memoir of Ed Rollins, a Republican consultant and Reagan's reelection-campaign director. In the book, Rollins recounted a dinner-party conversation with a member of the Filipino congress who claimed to have personally given a suitcase of cash to a "well-known Washington power lobbyist" involved in the Marcos campaign. Rollins would neither confirm nor deny that the lobbyist was Manafort, though his description doesn't leave much uncertainty, and he conceded in an email that "it's a pretty good guess." Rollins admits in his book to being "stunned" by what he heard—"not in a state of total disbelief, though, because I knew the lobbyist well and I had no doubt the money was now in some offshore bank." This irked Rollins greatly: "I ran the [Reagan] campaign for $75,000 a year, and this guy got $10 million in cash."
Manafort has always denied Rollins's insinuation—"old stuff that never had any legs," he told Vogel. And as a practical matter, it's hard to imagine that anyone could stuff $10 million in a suitcase. Still, Vogel found a raft of circumstantial evidence that suggested the plausibility of the tale. When I asked Manafort's former colleagues about the apocrypha, they couldn't confirm the story. But some didn't struggle to imagine it might be true, either. Even though John Donaldson doubts the veracity of the tale, he told me that it persists because it reflects Manafort's ethics. "I know how Paul would view it. Paul would sit there and say, 'These guys can't get access to Reagan. I can get them access to Reagan. They want to give $10 million to Reagan. Reagan can't take $10 million. I'll take the $10 million. They think they'll be getting their influence. Everybody's happy.' "
Another alumnus of Manafort's firm answered my questions about the Marcos money with an anecdote. After the election of George H. W. Bush, Black, Manafort, Stone and Kelly agreed to help organize the inauguration festivities. The firm commissioned a company from Rhode Island to sell memorabilia on the parade route—T-shirts, buttons, and the like. After crews had taken down the reviewing stand and swept up the debris, the alumnus recalled, a vendor showed up in the office with a bag full of cash. To the disbelief of his colleague, Manafort had arranged to take his own cut. "It was a Paul tax," the former employee told me. "I guess he needed a new deck. But this was classic: Somebody else does the work, and he walks away with the bag of cash."
Having spent so much time in the company of oligarchs, Manafort decided to become one himself.>

Colleagues suspected the worst about Manafort because they had observed his growing mania for accumulating property, how he'd bought second, third, and fourth homes. "He would buy a house without ever seeing it," one former colleague told me. His Hamptons estate came with a putting green, a basketball court, a pool, and gardens. "He believed that suckers stay out of debt," the colleague told me. His unrestrained spending and pile of debt required a perpetual search for bigger paydays and riskier ventures.

In 1991, Black, Manafort, Stone and Kelly was purchased by the mega public-affairs firm Burson-Marsteller, the second-largest agency in the world. It was a moment of consolidation in the industry, where the biggest players came to understand how much money could be made from the model that Manafort had created. But nearly as soon as Burson acquired the firm, Tom Bell, the head of its Washington office, began to notice the ways in which Manafort hadn't played by the rules. He'd been operating as a freelancer, working on projects that never went to the bottom line. In 1995, Manafort left Burson. Taking a handful of colleagues with him, he started a new firm—Davis, Manafort and Freedman—and a new chapter, one that would see him enter the sphere of the Kremlin.
VII. The Master of Kiev
During the 1980s and '90s,

an arms dealer had stood at the pinnacle of global wealth. In the new century, post-Soviet oligarchs climbed closer to that position. Manafort's ambitions trailed that shift. His new firm found its way to a fresh set of titans, with the help of an heir to an ancient fortune.

In 2003, Rick Davis, a partner in Manafort's new firm, was invited to the office of a hedge fund in Midtown Manhattan. The summons didn't reveal the name of the man requesting his presence. When Davis arrived, he found himself pumping the hand of the Honorable Nathaniel Philip Victor James Rothschild, the British-born financier known as Nat. Throughout his young career, Nat had fascinated the London press with his love interests, his residences, and his shrewd investments. For his 40th birthday, he threw himself a legendary party in the Balkan state of Montenegro, which reportedly cost well over $1 million—a three-day festival of hedonism, with palm trees imported from Uruguay.

Russian oligarchs were drawn to Rothschild, whose name connoted power—and he to them. "He likes this wild world," Anders Åslund, a friend of Rothschild's, told me. Rothschild invested heavily in post-communist economies and became a primary adviser (and a friend) to the young Russian billionaire Oleg Deripaska.

Rothschild and Deripaska fed off each other's grand ambitions. Like a pair of old imperialists, they imagined new, sympathetic governments across eastern Europe that would accommodate and protect their investments. Their project required the type of expertise that Manafort had spent years accumulating. In 2004, Rothschild hired Manafort's new firm to resurrect the influence of an exiled Georgian politician, a former KGB operative and friend of Deripaska's then living in Moscow. This made for a heavy lift because the operative had recently been accused in court as a central plotter in a conspiracy to assassinate the country's president, Eduard Shevardnadze. (He denied involvement.) The rehabilitation scheme never fully developed, but a few years later, Rick Davis triumphantly managed a referendum campaign that resulted in the independence of Montenegro—an effort that Deripaska funded with the hope of capturing the country's aluminum industry.

Deripaska's interests were not only financial. He was always looking to curry favor with the Russian state. An August 2007 email sent by Lauren Goodrich, an analyst for the global intelligence firm Stratfor, and subsequently posted on WikiLeaks, described Deripaska boasting to her about how he had set himself up "to be indispensable to Putin and the Kremlin." This made good business sense, since he had witnessed the Kremlin expropriate the vast empires of oligarchs such as Mikhail Khodorkovsky who'd dared to challenge Putin. In fact, the Kremlin came to consider Deripaska an essential proxy. When the United States denied Deripaska a visa, the Russians handed him a diplomatic passport, which permitted him to make his way to Washington and New York.

Manafort understood how highly Deripaska valued his symbiotic relationship with the Kremlin. According to the Associated Press, he pitched a contract in 2005, proposing that Deripaska finance an effort to "influence politics, business dealings and news coverage inside the United States, Europe and former Soviet Republics to benefit President Vladimir Putin's government." (Deripaska says he never took Manafort up on this proposal.)

The Kremlin's grip on its old Soviet sphere was especially precarious in the early aughts. President George W. Bush's democratic agenda espoused an almost messianic sense of how the United States could unleash a new age of freedom. The grandiloquent American rhetoric posed an existential threat to entrenched rulers of the region who were friendly to Russia, and who had become rich by plundering state resources. Suddenly, the threat of democratic revolution no longer felt theoretical.

The risks of popular uprising were very much on Rothschild's and Deripaska's minds during the last months of 2004, when they handed Manafort a specific task. Ukraine had descended into political crisis, one that jeopardized business interests they'd already developed in the country (Rothschild had various private-equity investments; Deripaska had an aluminum smelter). They sent Manafort to Kiev to understand how they might minimize the dangers.

Of all Paul Manafort's foreign adventures, Ukraine most sustained his attention, ultimately to the exclusion of his other business. The country's politics are hardly as simple as commonly portrayed; corruption extends its tentacles into all the major parties. Still, the narrative of Manafort's time in Ukraine isn't terribly complicated. He worked on behalf of a clique of former gangsters from the country's east, oligarchs who felt linguistic and cultural affinity to Russia, and who wanted political control of the entire nation. When Manafort arrived, the candidate of this clique, Viktor Yanukovych, was facing allegations that he had tried to rig the 2004 presidential election with fraud and intimidation, and possibly by poisoning his opponent with dioxin. He lost the election anyway, despite having imported a slew of consultants from Moscow. After that humiliating defeat, Yanukovych and the oligarchs who'd supported him were desperate for a new guru.

Source : https://www.theatlantic.com/magazine/archive/2018/03/paul-manafort-american-hustler/550925/?silverid=MzIzNTkwNTY5Mzg4S0