We all like to gift our near and dear ones during

>Christmas

and why not. It is a time of merry-making and enjoying with family and friends. Children enjoy a lot and are very happy with the
chocolates and gifts! Let's make here
DIY Christmas Gift Basket! 
Gifting chocolates and small gifts are traditional ideas. Then why not bring in a twist in the same by preparing some beautiful small baskets! These baskets not only look attractive but are multipurpose in nature. It can hold your gifts and brings in a perfect look.
Here we bring to you one such
easy yet unique DIY Christmas Gift basket.
Things Needed For DIY Christmas Gift
Foam sheet
Divider
Pencil
Ruler
Scissors
Glue gun
Glue stick
Printed paper
Decorative pearls
Craft glue
Colour papers
Let's Learn How to Make Easy Accordion Paper Basket for Chocolates!
Step by Step Procedure for Handmade Foam Basket
Step 1
Take a pink colour foam sheet.
Use a ruler and measure 6 cm on it, use a divider to draw a circle with 6 cm radius.
Cut this circle and keep it separate.
In a similar manner, we need 4 rectangles of various dimensions. Please refer to the URL:- https://youtu.be/nei7Tmef_mI
Cut each of the rectangles and keep it aside.
Step 2
Take the circle shaped foam and at the centre measure 2 cm widths and draw 2 horizontal lines.
Use glue on the horizontal lines and stick the rectangular sheet measuring 12*7 cm dimension on it.
Take the long rectangular pieces measuring 7cm width and paste it on the circumference of the circle to form a basket.
Step 3
To make the handle of the basket, take a foam sheet and measure 1.5cm width on it.
Cut this strip and paste it on the inner portion of the basket.
Wondering how to make a gift bag for your loved one? Let's see here Easy DIY Paper Gift Bags making…
Take the printed paper sheet and cut 2 strips of 1.5cm width.
Use glue to paste the strips on the handle of the basket to make it more attractive.
Use the printed paper to cover the sealed ends of the basket.
Step 4
Take the colour paper and measure 1.5*11 cm dimension on the same.
Cut several such strips for decorating the wall.
Take each strip and paste it on the wall of the basket.
You will love to know How to Make a Basket from Wasted Plastic Bottle!
Step 5
To decorate the walls, use pearl strips on the edges and the walls of the basket.
Also, decorate the handle of the wall using the pearl strips.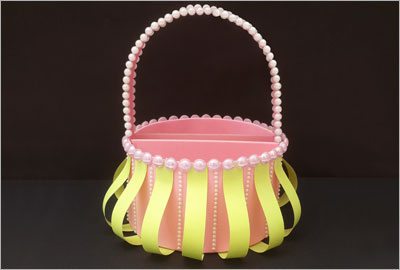 The

>beautiful Christmas baske

t is now ready to use!
This
DIY Christmas Gift is simple and easy to make. It forms an
excellent gifting option. You can see that very few materials are used in the making of this basket. Prepare such baskets and give your friends and relatives a creative surprise.
Happy crafting!!
Subscribe to StylEnrich Newsletter and Always Stay Updated!
Join our mailing list to receive the latest articles about Health, Food, Nutrition, Exercise, DIY, Arts and Crafts and much more.
Congratulations! You have successfully subscribed to our mailing list. You will start receiving awesome stuff soon.
We do not share your name and email with third party. We hate spam as much as you do, so rest assured, we only send useful and informative emails to you. That's a Promise!
Source : https://stylenrich.com/diy-christmas-gift-basket/