Deal volume year to date is up slightly, compared to the same period in 2016. However, 2016 is proving to be the record year in IoT M&A in terms of dollar volume, with its multibillion-dollar deals such as ARM, Fleetmatics and Jasper.

Download this free guide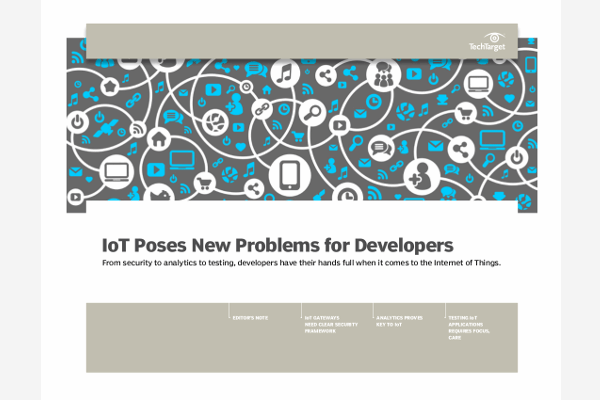 Download Now: The Developer's Guide to IoT
The Internet of Things (IoT) world may be exciting, but there are serious technical challenges that need to be addressed, especially by developers. In this handbook, learn how to meet the security, analytics, and testing requirements for IoT applications.
By submitting your personal information, you agree that TechTarget and its partners may contact you regarding relevant content, products and special offers.
You also agree that your personal information may be transferred and processed in the United States, and that you have read and agree to the Terms of Use and the Privacy Policy.
For 2017 year to date, we have seen a total of 106 transactions close, a slight increase compared to the 103 closed in the same time frame in 2016. It should be noted, in addition, that deal volume so far in 2017 exceeds each of the five full years from 2010 to 2014.
More significantly, perhaps, is the absence of transactions over $1 billion in 2017. Total disclosed transaction value of $3.9 billion in 2017 year to date is $49.2 billion lower than that of the same period in 2016, a period which included SoftBank's $31 billion acquisition of ARM Holdings and Apollo Global Management's $12.4 billion acquisition of ADT. Still, even when excluding these two largest deals in 2016, 2017 figures do not come close.
That said, there are a few deals currently pending that are above $1 billion in transaction value, including the $49 billion acquisition of NXP Semiconductors by Qualcomm and the $1 billion acquisition of Silver Spring Networks by Itron. Should the Qualcomm/NXP deal close in calendar 2017, dollar volume would be approximately equal to that of 2016; however, regulatory approvals could push the deal into 2018.
The biggest deals in 2017 year to date are the acquisition of ServiceMax, a cloud-based asset-tracking and field management company, by General Electric Digital for $915 million, the acquisition of China Merchants Logistics Holding, a supply chain management and transportation services company, by Sinotrans for $818 million and the acquisition of Comptel Oyj, a data fabric and advanced IoT analytics company, by Nokia Solutions for $373 million.
While telematics technologies represented almost half of the 2016 IoT M&A transactions (approximately 60 transactions out of 119), followed by hardware and devices, the Comptel Oyj/Nokia transaction is symptomatic of the strong interests in IoT analytics (big data for IoT), security, smart offices and homes.
>
Source : http://internetofthingsagenda.techtarget.com/blog/IoT-Agenda/IoT-sector-mergers-and-acquisitions-2017-update