Evanston Police said they received a call at about 2:17 p.m. from a person claiming to have shot his girlfriend inside an apartment in Engelhart Hall.
"I saw 10 to 15 policemen trying to enter all the apartments on the fifth floor," said John Dorval.
The Northwestern University Emergency Notification System sent out an alert around 2:40 p.m. Wednesday telling students it was not a drill and to shelter in place.
"I saw pictures of my peers in their classrooms. They had tables and chair barricaded against doors," said student Andrew Merica.
Snipers positioned themselves on rooftops and even officers ducked for cover, just in case. But officers found nothing at the address they were given.
"There was no scene, no victim, no gun, no gunman located," said Commander Ryan Glew, Evanston Police Department.
EMBED
>
"Swatting" is a term used to describe a prank phone call to emergency services in an attempt to dispatch a large number of armed police officers to specific address.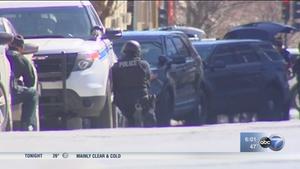 >Northwestern incident points to spread of 'swatting'The ABC7 I-Team reported early in Wednesday's police response that officers had found no evidence of an actual attack- suggesting that it was prompted by a hoax phone call known.
"I think t's very unfortunate that on a day like today, someone would capitalized on fear that is happening all across America," Merica said.
Police stressed that there was no danger to community at any point. All pedestrian and traffic restrictions in the area were lifted Wednesday evening.
Source : http://abc7news.com/police-report-of-person-with-gun-on-northwestern-campus-was-a-hoax/3216191/