Beirut: Over several nights in September, some 10,000 men, women and children fled areas under Islamic State control, hurrying through fields in northern Syria and risking fire from government troops to reach a province held by an Al-Qaeda-linked group.
For an untold number of battle-hardened jihadis fleeing with the civilians, the escape to Idlib province marked a homecoming of sorts, an opportunity to continue waging war alongside an extremist group that shares much of the Islamic State's ideology — and has benefited from its prolonged downfall.
While the US-led coalition and Russian-backed Syrian troops have been focused on driving Islamic State from the country's east, an Al-Qaeda-linked insurgent coalition known as the Levant Liberation Committee has consolidated its control over Idlib, and may be looking to return to Osama bin Laden's strategy of attacking the West.
Syrian activists with contacts in the area say members of the Levant Liberation Committee vouched for fleeing IS fighters they had known before the two groups split four years ago and allowed them to join, while others were sent to jail. The activists spoke on condition of anonymity because they still visit the area and fear reprisals from the jihadis.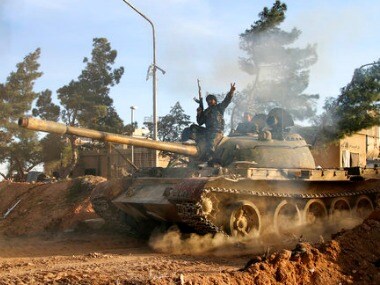 Representational image. AP
Source : http://www.firstpost.com/india/as-islamic-state-loses-ground-in-syria-and-iraq-jihadis-flock-to-al-qaeda-to-continue-waging-war-4155467.html