In public and private schools, ed tech companies are collecting personal data such as kids' names, birth dates, browsing histories, location data, and more, often without the knowledge and consent of parents, or even of school administrators, according to a new report from the Electronic Frontier Foundation (EFF).
EFF's report, "Spying on Students: School-Issued Devices and Student Privacy," comes from online surveys and face-to-face interviews with over 1,000 parents, teachers, school IT managers, and other stakeholders. It reveals a disturbing lack of meaningful privacy protections for students, and schools' resistance to letting students opt out of school-provided ed tech.
EFF identified 152 different ed tech apps through its surveys. Only 118 had published privacy policies. Very few of those privacy policies went into important details such as data retention, encryption, de-identification, and aggregation.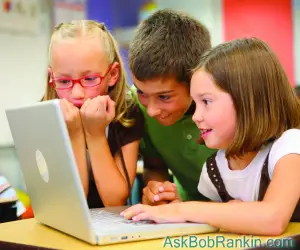 Perhaps most disturbing, ed tech is teaching children as young as five to hand over their personal information on demand. It's not uncommon for a student to have multiple ed tech online accounts, each including a "teachable moment" when it requires personal information.
Source : http://askbobrankin.com/privacy_is_google_spying_on_students.html