Mina, Saudi Arabia: A horrific stampede killed at least 717 pilgrims and injured hundreds more Thursday on the outskirts of the holy city of Mecca in Saudi Arabia, the deadliest tragedy to strike the annual hajj pilgrimage in more than two decades.
A 60 year-old lady of LB Nagar, Hyderabad too died in the hajj stampede, CNN IBN reported, and at least 21 Indians were injured in the tragedy. According to reports, over one lakh Indians are in Mecca for Hajj.
At least 863 pilgrims were injured in the crush, said the Saudi civil defense directorate, which provided the death toll. The tragedy struck as Muslims around the world marked the start of the Eid al-Adha holiday.
It was the second major disaster during this year's hajj season, raising questions about the adequacy of measures put in place by Saudi authorities to ensure the safety of the roughly 2 million Muslims taking part. A crane collapse in Mecca nearly two weeks earlier left 111 people dead.
Saudi Arabia takes great pride in its role as the caretaker of Islam's holiest sites and host to millions of pilgrims annually. But the hajj poses an immense logistical and security challenge for the kingdom given the sheer number of hundreds of thousands of people — from differing linguistic and cultural backgrounds, many of whom have saved for years for a once-in-a-lifetime opportunity — intent on following the same set of rituals at about the same time.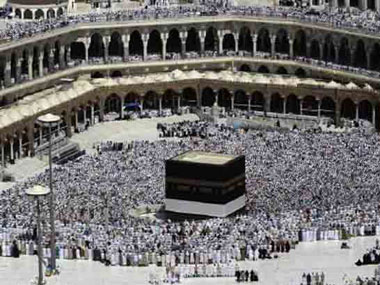 Mecca. AP
Source : http://www.firstpost.com/world/stampede-at-mecca-kills-717-pilgrims-including-one-indian-at-least-863-injured-2444832.html